I had to make another paper roll holder to use in my bedroom.
This was made last night actually. My first experiment of regular pad booster. It's 23lx7w. 4 layers of flannelette.
This is winged regular pad. 23lx7w with wings. 4 layers of flannelette in centre and 2 layers of flannelette in wings.
This is winged night pad. 34lx9w, and 18w at back end. 6 layers of flannelette in absorbing area, 2 layers of flannelette in wings.
This is a project I've been planning to do for a long time. DD's T shirts soon become too small. Actually too short for her huge tummy. And as we always think covering tummy is very important, and it's winter now, I decide to add some length at the tummy area of her tshirts. They're all very stretchy so I don't worry about the width. Anyway I happen to have gathered some stretchy fabrics in my stash so I used some to make below lengthed tshirts:
This one is not from my stash. The pink and white bottom fabric is from one of my old beach tshirts that I don't want to wear any more.
I made about half a dozen before my back was too painful to continue. There's still about 4 or 5 I need to lengthen but will do some other day.
Here's another one I did later some day: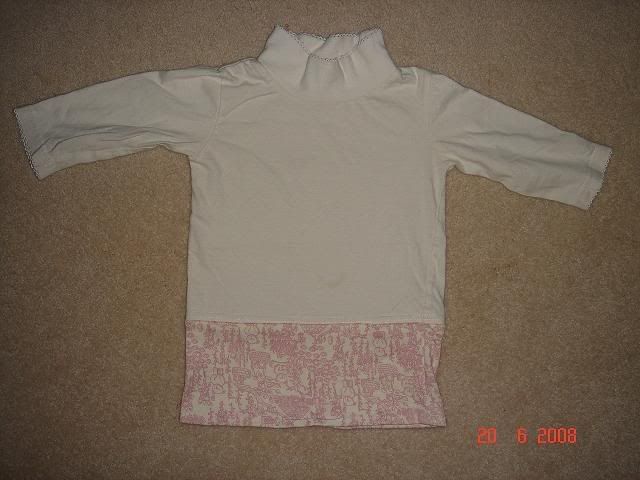 Below are some appliques I did quite a while ago for DD's plain fleece tops: