I need a messenger bag for my new job. It's not that the other bags are not good. I just need something I can hang over my shoulder. All my current ones got too short straps. I need it to hang over my shoulder so I can free out my hands as now I'm taking trains to work instead of driving. It's hard to balance on the train with hands full of bags etc.
Ok reasons provided, now I need the size. I need one to be able to hold papers. So it need to be at least A4 size. Then some dimensions so I can put A LOT of things in it. It needs to have the capacity for knitting and embroidery. Yes I'm very ambitious. I plan to fully use the time on the train as my private time!
38x33x10, strap 69-140x2-3, pockets 22
cut:
fabric 1 outside body:((38+10)x2+2)x(33+5+2)=98x40
fabric 2 inner body: 98x40
fabric 2 out pockets: 98x(22x2+2)=98x46 folded in half
fabric 1 inner pockets: 98x46 folded in half
fabric 1 strap: 3x4x100=12x100
fabric 2 flap: (38+2)x(33x2+2)=40x68 can do without a flap
steps:
1. fold fabric 3 in half wrong sides together, sew on fabric 1 at least 6 cms from bottom, then sew a few lines as pockets, then fold the whole piece in half right sides together, sew two shorter ends and bottom together, cut triangles to make rectangular bottom.
2. do the same to fabric 4 on fabric 2
3. strap folded in 4 layers and sew two lines to make strap
4. flap folded in half right sides together, sew the two side lines, round the corner if preferred, cut excess fabric, then turn right side out. topstitch for neatness.
5. two body pieces right sides facing together, pin flap and strap in place, sew the top line together leaving a 10cm opening, turn right sides out and top stitch the whole top line two lines.
6. add snaps if preferred.
Updated 080720: this is my trial version using fashion fabric and I've been using it for a week for work. Love the pockets.
Front:
Open:
Inside: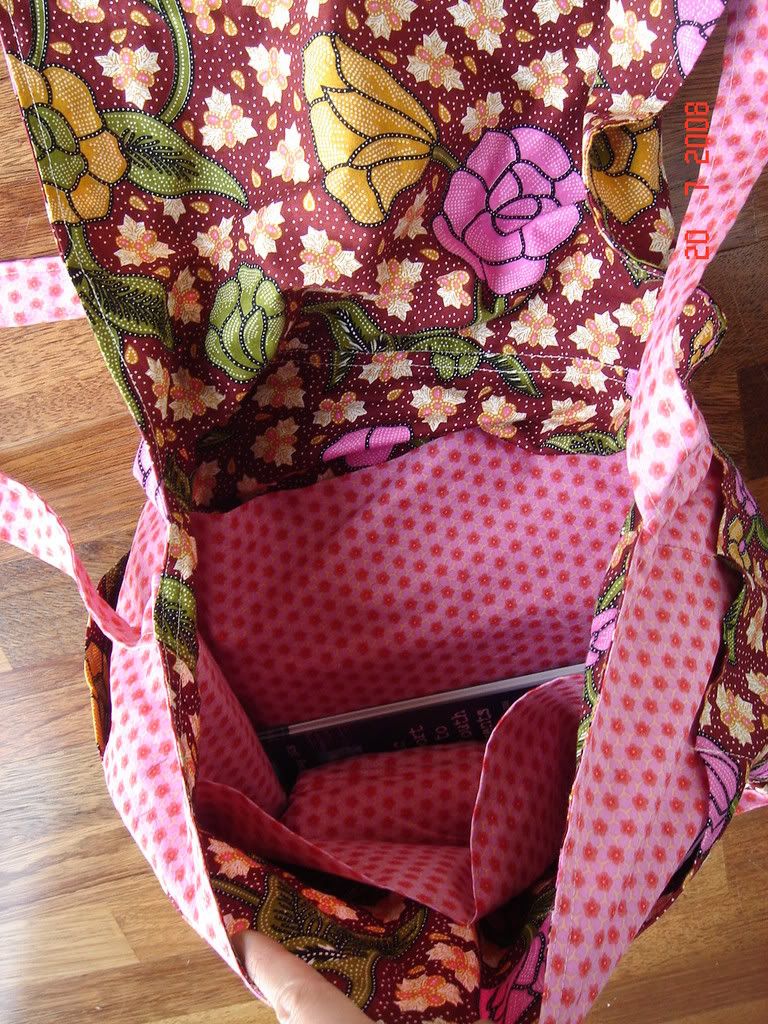 Back: