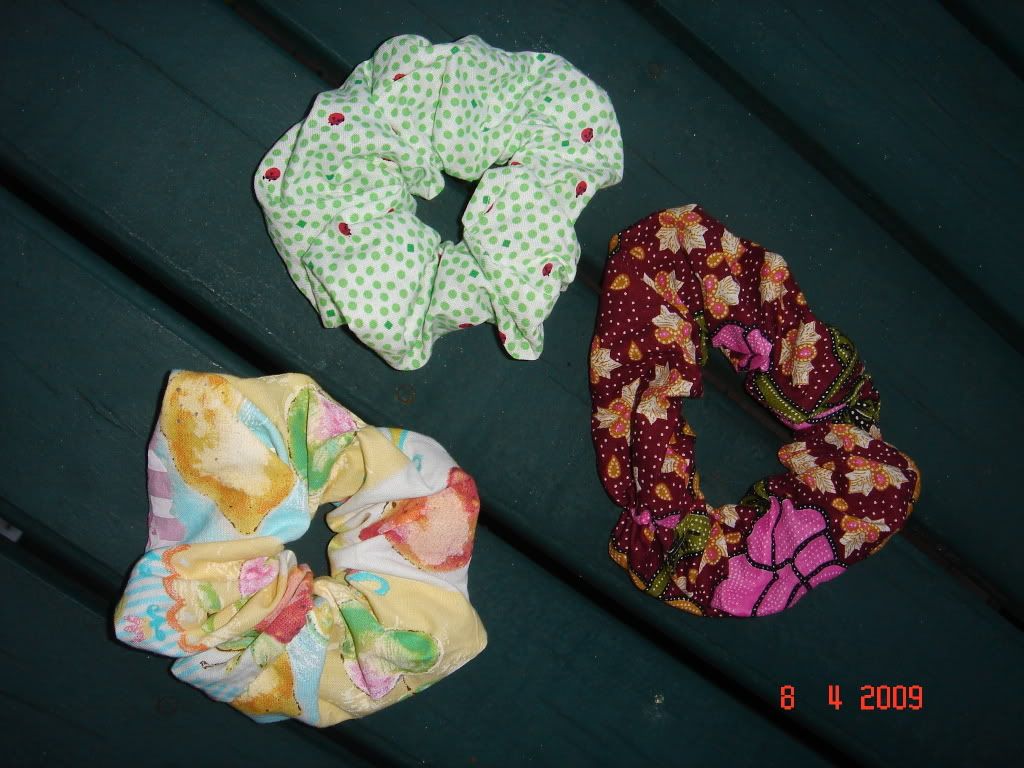 (Sorry...just realized I forgot to enter a title of this post....)
As you can see this is my new obsession.
And of course I modified the
process/instructions
. I have to. It's just my habit of not following procedures and trying to create my own versions of everything. I think it's more fun to create my own ways of doing things, out of inspirations from other people. I'm not creative, but I'm modify-tive. Haha~
Anyway instead of using the original instructions, which I have to say very clever, I hand sewed these new scrunchies, because I only had time to sew on the train, since I've been very busy at work recently and feeling exhausted at night and go to sleep at 8:30pm…
Since I'm hand sewing them, there's a new way to play around. Basically, I sew a tube, then turn right side out, connect the ends of the tube using blind stitch so it makes a ring, leaving a small opening and thread the elastic into the ring tube using a safety pin, knot the ends of the elastic and close the opening with blind stitch.
Yeah I knot the ends of the elastic instead of sew the ends together. The first reason was because I found out the elastics I cut out were too long (bad memory coz I memorized the right size of the fabric but forgot the right length of the elastic), as you can see in the dark red'ish one which doesn't look so….scruntchie... Then I thought ok I knot you and it'll take some length away. Then I though oh this is a good idea coz I don't have to spend time sewing the ends together. So I kept doing it….
Sorry no tutes coz I can't take photos on the train…it would be really weird to do so…