I'm totally addicted to it.
And I've got so much cord to play with too.
DH said
the pants
I made recently
don't have 'curves'. I asked him exactly what he likes and he showed me one of DD's bell pants. Ok I don't think that's difficult. So I modified
the pattern
I've been using. BTW this is really a very well used pattern. I bought it from spotlight and have made almost every item in the pattern, hooded vest, pants, jumper, tops etc. It is a basic pattern but I can add my own imagination and design to make it more interesting and make many more varieties.
Here's the final product:
I love how it turned out. It fits DD perfectly, even with thermo underneath: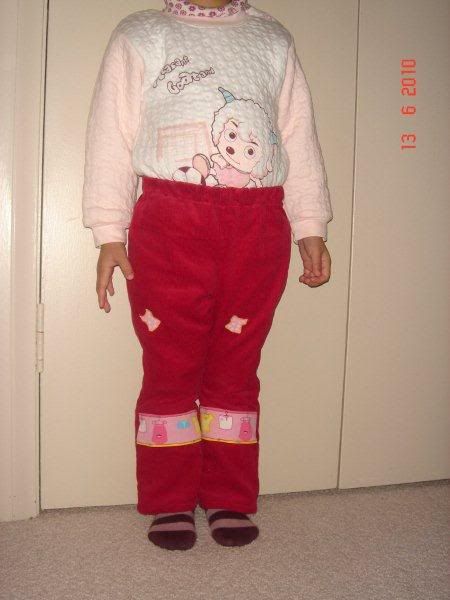 The back has even more decorations:
Because I got distracted when sewing and sewed all the decorations on the back pieces. Lucky I still had plenty of scraps to make more decorations to add onto the front pieces so now she ended up with a pair of pants with decorations everywhere!
The pants are made of a bright red cord and the decorations were cut from some canvas type of fabric from a never finished project. I used bands of that fabric to make the big pieces and cut out the small Tshirt patterned pieces to applique here and there.
I cut out the back and front pieces a few days ago from the 4004 pattern and after DH requested 'curves', I simply drawed some curves on the pieces and cut to make it a 'bell' shape.