I know I haven't posted for many months. I haven't stopped sewing. Just got busy with my life with a new baby and my girls' blog so sewing blog is kind of lower priority. I'll try to pick up with this sewing blog and document some sewing I did during the last few months.
This is the third feeding cover I made for DD2. When she started solids at about 4-5 months I found she made too much mess. My mom suggested I make some of these covers so I don't have to change DD2's clothes every time after feeding. Turned out this is a good idea. Although it's a pain to put on an extra layer each time before feeding her, I'm glad I don't have to change her from head to toe after every feeding, and I don't have to have dozens of spare clothes.
Since it's only for feeding, it doesn't need to be fancy. So I never used any new fabrics to make any of these covers. This one started with a business shirt DH didn't want to wear any more.
I put one of DD2's top on the shirt and roughly cut out the sleeves and front and back. The front and the back are exactly the same. I didn't worry about the buttons.
Sewed the pieces together and some FOE on the neck and some elastics on the wrists. I didn't need to hem the bottom edges as they came hemmed with the shirt.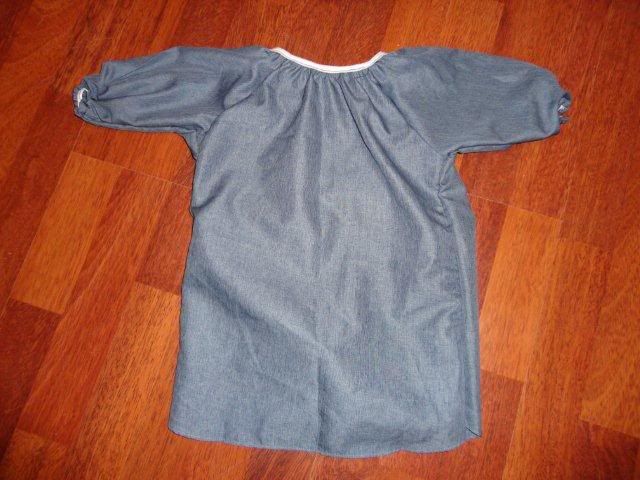 The buttons now come in handy as I don't need to worry about the closure at the back. When feeding time comes I just pop it on, button it up at the back and voila DD2 has a spillproof feeding cover!