I made this skirt for DD1 today:
I copied the design from an existing skirt given to us as one of the hand-me-downs. DD1 worn the golden one and I was surprised how nice it looked so I decided to make some using that design. I happen to have exactly the same fabrics at home, the black cord/velour/whatever thick fabric, and the sequin material.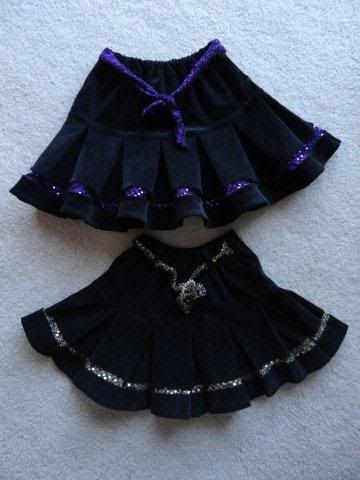 I forgot to take photos when I started so below are some photos from middle of the project. The first photo below is already 1.5 hours into the project. The skirt took me 2.5 hours in total.
Basically I cut the following pieces:
Black cotton:
1. 40cmW x 19cmL x 2 pieces for upper piece
2. 107cmW x 18cmL x 2 pieces for lower piece, then I cut each piece into 107cmW x 13cmL and 107cmW x 5cmL pieces.
Purple sequin:
3. 107cmW x 3cmL x 2 pieces to go between pieces No. 2
4. 30cmL x 6cmW x 2 pieces as sash to go in the waist
Steps:
1. I pinned and sewed the pieces No. 3 to No 2, then top stitched to make it look neat. This step is very long and tedious.
2. Using a ruler, I marked the lower pieces made from Step 1 with marks 3cm apart, and pinned the pleats, each being 6cm wide.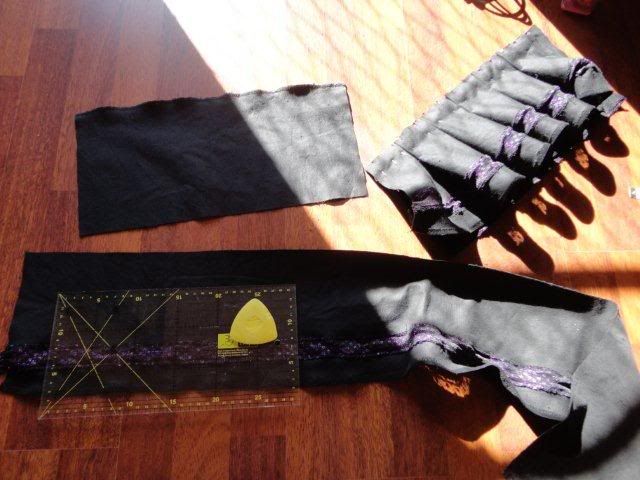 3. I pinned the lower pieces to upper pieces, front and back still separate. (The upper piece and lower piece might not be exactly the same width, since there can be some inaccuracies in pleating, but I simply cut the excess off, which might have been less than 1cm wide. )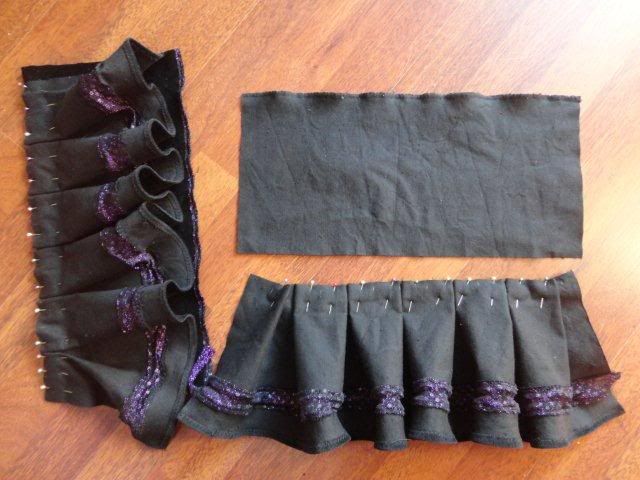 Below is a photo of upper pieces pinned with lower pieces, right sides together.
4. I sewed the upper and lower pieces together, and top stitched: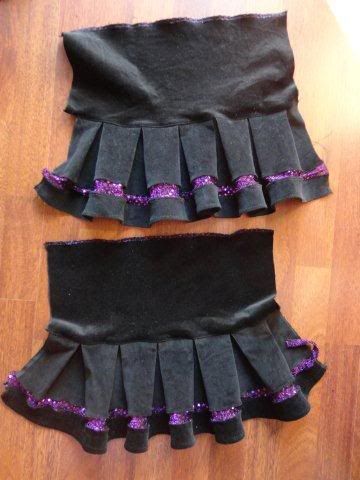 5. I sewed pieces No. 4 into sashes and pinned them to sides of one of the upper pieces on the right side, then pinned the front and back pieces together and sewed both sides. Turning right side out and I got this: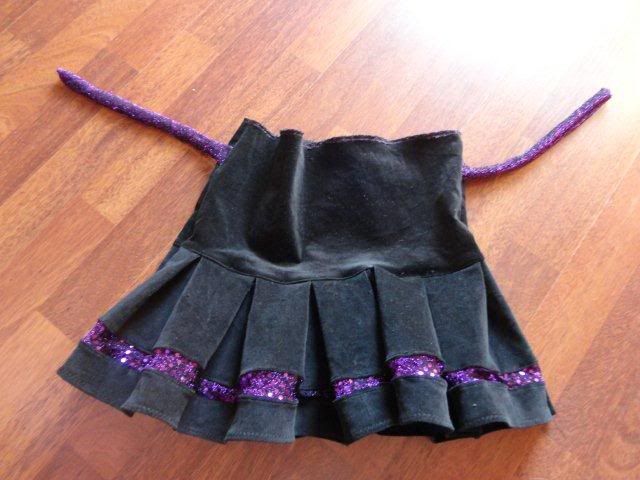 6. Then I sewed top of the upper piece into a casing and threaded in a 45cmL x 2cmW elastic. I would have liked a wider elastic but that's how wide I could get from my stash.
I like how it turned out, although the sash doesn't look like what I imagined. Next time I might sew it a little bit lower. But maybe it'll look ideal when on DD1.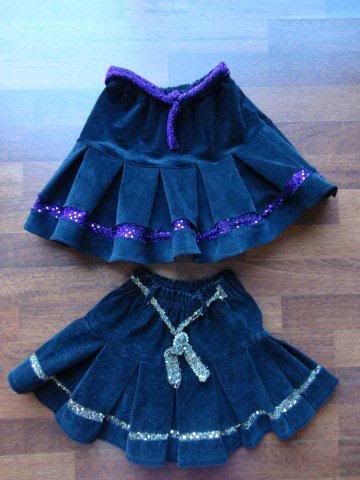 I could have run another straight stitch through middle of the elastic casing but I don't want to run the risk of making the waist too wide/loose so I'll just leave it like that now.
DD1 is 4 years and 7 months by the way. But I believe she can wear this skirt for another year or two.