DD1 had these two Tshirts that were too small and I extended them with some fabrics for her to wear another year or two and then I kept them for DD2. But when I took them out to put into DD2's wardrobe I felt they looked too shabby for her to wear, especially the dead elastics around the neck.
I didn't have the patience to remake the neckline, and recently DD2 is quite short of bibs, so I put my homemade bib pattern on top of the tshirts and thought, wow, perfect for a bib!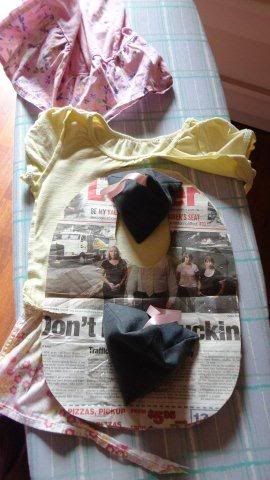 So I cut them out, yeah with the ruffles on, because that's cotton too. I thought the ruffles would make an interesting part, as I've never sewn any ruffles on bibs before, and this one has built-in ruffles. What a bonus!
And I went through my scraps drawer and was thrilled to find some scrap polar fleece that was just enough to make two bibs:
Then I pinned two layers of tshirts and 1 layer of polar fleece together and sewed the bibs: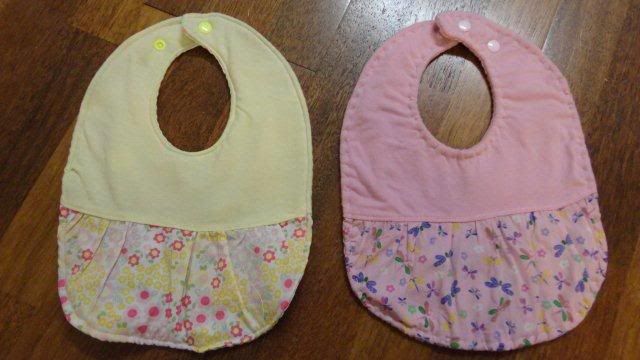 The pink one was totally handsewn on the train, and the yellow one was halfly handsewn, and turned and topstitched by sewing machine at home, because I couldn't wait till tomorrow morning's train ride...
The very well worn tshirt fabric is sooo soft...