The left pink top was too skinny for DD2. I loved the skeleton design so I kept it hoping that one day I could refashion the skeletons onto some other clothes. And I came across the right red top and thought it would be perfect for this refashion project. The red top was worn by DD1 and it looked very plain and old.
But now after adding the skeleton it looks very Halloween, perfect for the holiday season!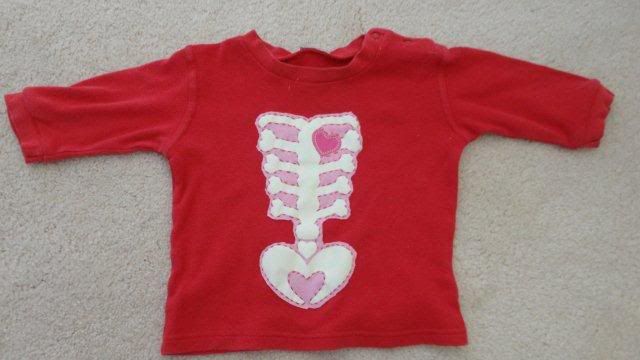 1. I cut the front piece off the pink top, and pinned it onto the front of the red top. I didn't use heat-n-bond.
2. I handsewed (because DD2 wouldn't let me go near the sewing machine, but somehow I could manage to handsew while looking after her)the skeleton onto the red top, using red thread and running stitches along the outline of the skeleton.
3. I trimmed all the excess fabric off the skeleton.I found this easier than cutting the exact shape to sew onto the red top because you get plenty of fabric to play with.
I was so happy that I handsewed. I wouldn't have achieved this neat result with a machine. I think knit fabrics are better done this way, but woven fabrics can be a problem coz they would fray, unless we want the fraying result or we don't mind it.